More than any other window cleaning company, Modern pre-screens, trains, certifies and rewards its window cleaners. They pass criminal background checks and random drug tests, adhere to all OSHA standards and strict safety procedures. And we compensate, evaluate and reward them fairly.
So they tend to stay with us long-term. We trust them, and so can you.
And just to boost your confidence, before we send someone to see you, we'll email you his or her photo. So you'll know that the person who comes to your door is one of our trusted professionals. Because it's not just your property that we keep spotless. It's also our reputation.
Click to arrange an appointment.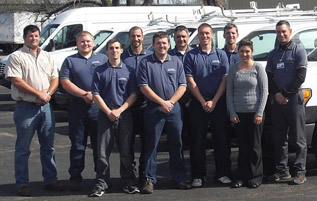 Modern Window Cleaning's caring, expert crew. Left to right: Bill Beck, Sean Thompson, Nicholas Fliszar, Jesse Christopher, Tom Briggs, Travis Pawlowski, Ben Wheeler, David Nickelson, Jessica Martinez and Ryan Campbell.